Summary
The Trust Corps was funded and founded by the former war college graduate and top of his class Steven Narada (who earlier joined the Marine Corps) in the year 1990, due to the collapse of the Soviet Union. This collapse caused him to worry about a possible aftermath from this collapse and thought the United States may not be well prepared enough to handle an all out war with Russia, so he formed the Trust Corps. The goal of the Trust Corps was to prepare for attack from Russia, but a time after that collapse and a sight for war was over, the corps began to branch out of this original goal and expand on its own interests such as; assistance and aid of the people touched by war and to perform special operations in designated areas.
Soon recruitment stations rose up around the United States and its allies (Europe mostly). The numbers slowly grew to a reasonable amount and with those numbers brought in people from all fields of work, producing new technology and expanding science. Many branches of R&D opened up eventually (focusing on computer science) and brought out some new computer schemes and advancements, this would later spark up a new source of income for the Corps and make them loaded with money.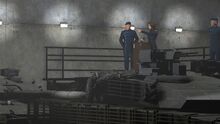 Ad blocker interference detected!
Wikia is a free-to-use site that makes money from advertising. We have a modified experience for viewers using ad blockers

Wikia is not accessible if you've made further modifications. Remove the custom ad blocker rule(s) and the page will load as expected.