Task Force: Cerberus is a strike team from Blackforce Corporation. A standard task force for Blackforce, but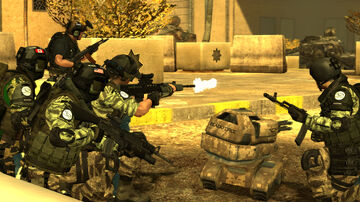 a very successful one with multiple victories against enemy forces since the unit's creation in 2006. Cerberus was one of many task forces created once Blackforce was able to deploy to Iraq and help in the ongoing Insurgency war in the country. Currently, Cerberus is deployed in the current offensive in liberating Fallujah from the Popular Resistance and Liberation alongside the Iraqi Army.
Later, the unit would be part of the major liberational force attacking the Anointed Warriors of Allah (AWA) in Syria in April-May.
In October 2015, given how many missions it's pulled off, operating alongside Task Force: Ghost and also the recent reorganisation, Blackforce commanders decided to re-classify Cerberus as an elite unit and assigned it to Wolf Pack 1, alongside Ghost Pack and Task Force: Venom.