ODQ Military Equipment list
The ODQ's standard issue equipment is listed below. This list will provide a deeper understanding of how to identify ODQ military forces.
Hand-held weapons
Various sidearms and blades, carried at employee's discretion
Various privately acquired rifles
Uniforms and gear
ATACS-FG is the standard camouflage pattern of ODQ. Load bearing equipment and helmets are rarely camouflaged. The only known vehicles in use to have a specific camouflage is the standard Valkyrie Modular VTOL craft in multicam. Note that valkyries in use by other factions may also paint their Valkyries in multicam.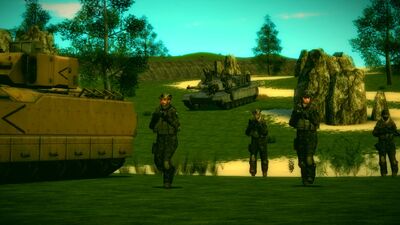 Vehicles
Ground
Air