ODQ Military Equipment list
The ODQ's standard issue equipment is listed below. This list will provide a deeper understanding of how to identify ODQ military forces.
Hand-held weapons
Various sidearms and blades, carried at employee's discretion
Various privately acquired rifles
Uniforms and gear
ATACS-FG is the standard camouflage pattern of ODQ. Load bearing equipment and helmets are rarely camouflaged. The only known vehicles in use to have a specific camouflage is the standard Valkyrie Modular VTOL craft in multicam. Note that valkyries in use by other factions may also paint their Valkyries in multicam.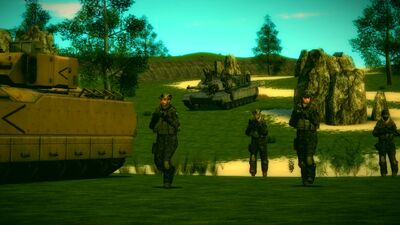 Vehicles
Ground
Air
Ad blocker interference detected!
Wikia is a free-to-use site that makes money from advertising. We have a modified experience for viewers using ad blockers

Wikia is not accessible if you've made further modifications. Remove the custom ad blocker rule(s) and the page will load as expected.