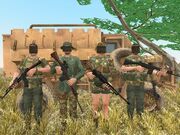 Johannes Wester is a by Ex-Rhodesian SAS officer and CEO of Kraaivuur International, which he founded after the fall of Rhodesia. He Currently Lives in Cape Town, on Kraaisenes (Raven's Nest), a old oil rig off of Cape Town Bay.
Timeline
Wester born in Sailsbury, Zimbabwe, then the Crown Colony of Southern Rhodesia
Rhodesian Unilateral Declaration of Independence
1966

28 April

Rhodesian Security Forces engaged militants in Sinoia, fist major conflict of the Rhodesian Bush War

1975
Wester joins the 1st Rhodesian SAS (Then known as "C" Squadron (Rhodesian) Special Air Service), becoming their youngest member.
C Squadron Becomes the 1st Rhodesian SAS
1979

Fall of Rhodesia.
Johannes Wester moves to Cape Town.

1980

Wester hired by the South African Government to train the SADF Recces in the tactics used by the Rhodesian SAS during the Bush Wars against ZANLA and ZIPRA, so the Recces can use them in the ongoing South African Border War against SWAPO

1982

March

Wester's Contract with the Government Ended, settles down and buys a Cape Town Oil rig cheaply due to oil well drying up.

1983

October

Founds Kraaivuur Security

1983-1990

Kraaivuur Security is hired by rich white Apartheids living in Cape Town to Police their suburbs.

1990-1993

11 February 1990

Nelson Mandela Released from prison.

Apartheid was dismantled in a series of negotiations.

1994

26–27 April

At midnight the old apartheid flag was lowered.
After the election held on 27 April 1994, Nelson Mandela is sworn in.

65% of White Neighborhoods in Johannesburg, 87% in Cape Town are policed by Kraaivuur Security amongst fears of Whites being evicted from homes.
The SADF superseded by the South African National Defence Force.
Rise of Applications to join Kraaivuur Security.

1995

Sidneyvale Massacre, 12 Kraaivuur Contractors open fire on 125 Black protesers in the Sidneyvale Suburb of Cape Town, killing 24 and injuring many others; investigation mysteriously dropped.

1996

Johannes Wester starts buying up villages around Cape Town.

2000

Kraaivuur Amalgamates small British PMC Lakehead, now calls itself Kraaivuur International. Gets a influx of British trained operators.

2000-2011

7 October 2001
20 March 2003
13 August 2003

Kraaivuur International enters Iraq

6 February 2004

Kraaivuur International enters Afganistan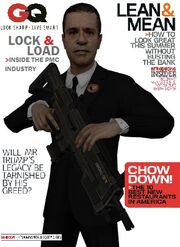 Ad blocker interference detected!
Wikia is a free-to-use site that makes money from advertising. We have a modified experience for viewers using ad blockers

Wikia is not accessible if you've made further modifications. Remove the custom ad blocker rule(s) and the page will load as expected.