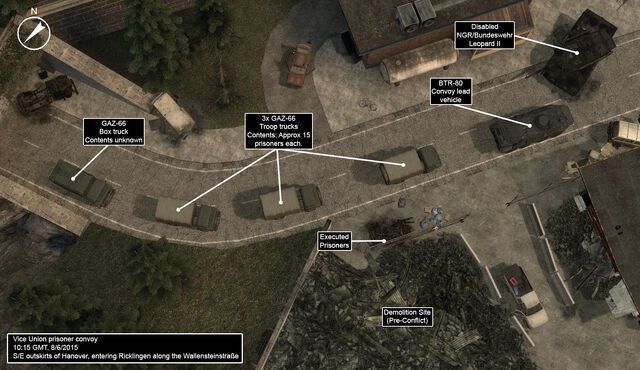 2015/08/06: The Grey Storm Air Force have begun offering pre-analysed satellite imagery to factions fighting against Vice Union in Germany.
Fortifications, supply depots, ambush points and anti-air defences are among some of the objects highlighted on the images, and numerous convoys and troop movements have been documented and analysed by Grey Storm intelligence experts, identifying the type and number of vehicles being moved around as well as rough estimates of troop concentrations in certain areas.
The intelligence that has been gathered is being offered for what Grey Storm themselves call a "reasonable fee" to Vice Union's enemies, with the promise of further information being provided as the conflict develops further.
File history
Click on a date/time to view the file as it appeared at that time.
Metadata
Ad blocker interference detected!
Wikia is a free-to-use site that makes money from advertising. We have a modified experience for viewers using ad blockers

Wikia is not accessible if you've made further modifications. Remove the custom ad blocker rule(s) and the page will load as expected.