Overview
Antoinne Larisse is a Herreran politician seated in the Democratic Party. Larisse was declared President of Herrera after the passing of Ex-President Terry Owen. Larisse has been criticised for his direct approach to terrorism involving muslim terror groups.
Background
-WIP-
Larisse was born in Lille on the 10th of January, 1982. Larrise ran for the Herreran Presidential Office as Terry Owen's Vice President.
Gallery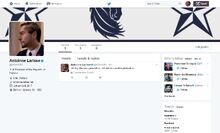 Ad blocker interference detected!
Wikia is a free-to-use site that makes money from advertising. We have a modified experience for viewers using ad blockers

Wikia is not accessible if you've made further modifications. Remove the custom ad blocker rule(s) and the page will load as expected.